Vesna Mirosavljev
Freelance Better With Bonsai: A Canadian Copywriter's Review of Bonsai's CRM and Invoicing Tool
Note: This post contains affiliate links. I may earn a small commission from clicks that lead to purchases of the product. As a personal rule, I only promote products I love, use, and have benefited from.
Ever since I started using Bonsai as my all-in-one tool for proposals, contracts, invoices (and more), my freelance life has gotten a whole lot better. And yes, that certainly includes better cashflow! Because getting paid has never been easier.
And who can complain about getting paid on time?
(By the way, your clients will love it too. Crazy, eh?)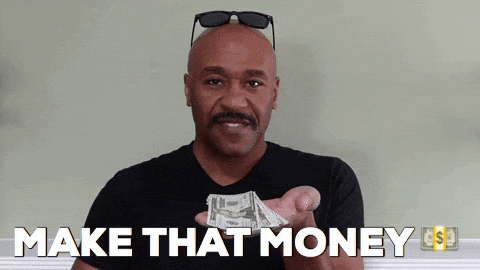 Top 3 reasons I chose Bonsai over HoneyBook and Dubsado
Before I dive into the details, here are three main reasons I went with Bonsai over HoneyBook, Dubsado, or any other CRM:
Super easy to use

Affordable pricing plans

Everything in one place
OK. Let's break it down.
1. Easy, intuitive user experience
When I first started looking for a client CRM and invoicing tool, Dubsado came in highly recommended by another freelancer. But she warned me that as much as she loved the program, the learning curve was slow at first.
I checked it out, signed up for a free trial, and realized I wouldn't be able to use it without putting time into watching tutorials.
I've gotta be honest. I dumped it within a week because having to watch tutorials just to start using something is a huge friction point for me. I just don't have the patience for it, and I'm already busy doing other things to level up my business.
Another freelancer recommended Hello Bonsai (really just Bonsai). I signed up, and what amazed me right away was how intuitive the dashboard was.
No matter what action I was taking, whether it was creating an invoice, putting together a proposal, or drawing up a contract, Bonsai never gave me anxiety that I might be "breaking" something.
The dashboard is so user-friendly, and no matter what you want to do, you don't have to take endless steps to get there.
I can't overstate how easy it is to use and figure things out as you go along. No video tutorials needed!
Your business can only go up from here, and naturally you'll use more and more features the farther you go. And with Bonsai, getting really granular with your settings (and with setting overrides) is really easy.
Go ahead and get started with Bonsai.
2. Affordable pricing
Another reason Bonsai appealed to me instantly is the cheaper starter plan—with way more features bang-for-buck than its competitors.
As a Canadian, I can say this makes a huge difference because all of these subscriptions are priced in USD! And by the time you convert that to Canadian, these SaaS tools can get pretty expensive!
The $19/month basic Workflow plan with Bonsai is quite cheap but gives you everything you need to start enjoying all the invoicing, contracting, and proposal features without ever really needing to upgrade. The Workflow Plus plan, at $29/month, gives you cool features like integrations, workflow plus automations, but honestly you'll be good with the basic plan for a while.
Compare that to HoneyBook's teaser $9/month starter plan.
Yes, it's only $9, but it limits you to $10,000 in earnings. If you go beyond that, you'll have to upgrade to the $39/month plan.
So I knew right away that the basic plan with HoneyBook wasn't going to serve me for long.
In short, Bonsai's Workflow Plus plan at $29/month with all the awesome features was still going to be cheaper for me in the long run!
You might be wondering, But what about Dubsado?
Here is Dubsado's pricing table.
As I mentioned, Dubsado is touted as an excellent all-in-one CRM as well, but it takes longer to figure out. In addition, I've noticed that with Dubsado's starter plan, you don't get to use the Proposals feature. Whereas with Bonsai, proposals and contracts are available for you even in the basic Workflow pricing plan.
So the choice to go with Bonsai—whether it was the $19/month Workflow plan or the $29/month Workflow Plus plan—was a no-brainer for me.
And as I said, I've been using it for a year and loving it.
3. Everything in one place
The third main reason I went with Bonsai is that it truly is an all-in-one CRM. I use it to put together proposals and create contracts, not just invoices.
After a discovery call, when I send a prospective client a proposal, their information can easily transfer to a contract that I create, and then I can use that same information to invoice them.
But you can do so much more. You can create forms for your clients to fill out, as part of onboarding or any other process you might want. You can also integrate it with other apps such as Google Calendar, Calendly, or ConvertKit. Some of these integrations are ones you can do right through Bonsai, while for others you can integrate using Zapier.
You can also easily track your time across different projects and tasks, and you can use this tracker for your own private purposes, or you can use it to translate directly into the bill you send to your client. And everything about it so intuitive, you can figure out how to use all this stuff as the needs arise.
Bottom line: Because everything inside Bonsai is so easy to use, I know I'm sticking with it because I can't stand tools that are difficult to master. And Bonsai keeps adding features every year, so I know it'll only get better.
My life before Bonsai vs. my life with Bonsai now
So let's back up just a bit. For context, at the time of writing (spring 2022), I've been using Bonsai for a year.
Before Bonsai, my freelance life was full of friction and frustration.
How so?
Well, as much as I loved my clients and loved the work I was doing, I didn't love doing the following:
Creating time-consuming and ugly invoices in Microsoft Excel

Saving all the invoices manually by keeping PDFs in an old-fashioned desktop folder

Chasing my clients down to pay my invoices (they meant well, but they would forget, especially since I used to only accept e-transfer or cheque)
Now I don't have to waste time completing tedious client-management tasks and spend more time doing what I went into business doing.
In other words, Bonsai does all the uncomfortable, transactional, housekeeping, business-y stuff for me. No more awkward emails to remind my clients to pay my invoice. I used to feel so awful having to send those "Hi, [client]! How are you? I was wondering if you had a chance to look at my invoice?" Ugh.
With Bonsai, I know whether they've viewed it, because I get instant notifications whenever a client has interacted with my invoice!
I get a cute little notification that lets me know my client has viewed my invoice:
With that in mind, let's look at some of Bonsai's winning invoice features.
The benefits of invoicing with Bonsai
One of the things I absolutely love about Bonsai's invoicing tool is that you can automate pretty much anything. But you can also get really granular and customize invoices to the client—even within templates you've already created.
So let's look at some of the features that have proven to be beneficial to my business.
Bonsai's invoicing features
The customization capabilities have made it so easy for me to adapt each invoice to the specific project or client.
So it's the best of both worlds:
You can set all kinds of defaults with ease, and

You can also undo them on a case-by-case basis with ease, right in the invoice itself without going to Settings.
Bonsai's invoicing tool allows you to do all the major things like:
Giving your clients the option to pay via credit card

Allowing your clients to pay the credit card processing fees or choose to pay the fees yourself

Setting up default invoice details such as the tax you charge, due dates for all invoices (e.g., two weeks out), late fees for your clients, and more.
But Bonsai goes beyond that. You can set advanced options, such as:
Allowing partial payments on invoices

Allowing tipping

Locking attachments until invoice is paid

Hiding the "units" field on invoices (great for project fees)

Giving clients other instructions on how to pay (e.g., how to pay by e-transfer)
Here is a screenshot of all the main settings you can automate:
Once you've customized your settings, you can start creating your first invoice.
And even here, you've got more options.
For example, you can create different types of invoices:
A single invoice

A recurring invoice (great for retainers)

A subscription style invoice

A bundled invoice (where you select multiple invoices under the same client and bundle them together!)
Here's what that looks like:
I've found all these options to be so useful, because I don't know about you, but each client relationship is a little different. Right now the types of projects I work on all have something unique about them.
Let's go on to another important matter. But if you're sold on Bonsai or want to start experimenting with it yourself, just head on over to Bonsai.
Bonsai credit card payment processing means you get more money in your pocket sooner, even if you account for the fees
About a year ago (spring 2020), I remember thinking I should start offering a credit card payment option to my clients. Up until that point, I had worked for mostly Canadian institutions, and the odd US client I did have would use the old-fashioned snail mail cheque (American sp. "check") method to pay me.
But things started to really shift since the pandemic. I was expanding my horizons to include clients in other parts of the globe, and it really was time for me (and my clients) to move on from the pony express of sending cheques in the mail.
And as for my Canadian clients, yes, they could send me an e-transfer, but that really only worked well for my solopreneur or entrepreneurial clients, not when I was working for a larger organization.
So with that, I looked forward to offering my clients the option to pay by credit card, but I didn't look forward to paying the fees.
If fees are a concern for you, the cool thing is that Bonsai allows you to tick a box if you want your clients to pay the credit card processing fee. It just gets added as part of the invoice.
But I decided that I wouldn't do that. It would be easier for me to raise my rates (which I needed to do anyway!) and then factor in the processing fees as a business expense.
At the end of the day, I don't want to add friction or annoyance to my clients' payment process. And I don't want them to think that I was nickel-and-diming them.
Ever since I started using Bonsai Payments within Bonsai (or you can use your Stripe Payments account), I've found that my cash flow has improved.
Most clients have their credit card at the ready. Which means they're more likely to pay your invoice as soon as they receive it. In contrast, if you accept only e-transfers, you might find that your client will put it off because they have to get into their bank account app on their personal time and go through all the steps of sending you an e-transfer.
When you make things convenient for your client, it benefits you too.
Thank about it.
We're all so used to paying for stuff online using our credit cards, so it only makes sense to treat your freelance services like a business, and that includes offering credit card payment processing.
For me, providing this convenience to my clients has paid off—literally.
So if I can have one word of advice:
Give your clients the option to pay via credit card.
To accept credit card payments from your clients, you can sign up for Bonsai Payments right in Bonsai, or connect a Stripe Payments account or a PayPal account. (Note: While I do have a Stripe account, I decided to go with Bonsai Payments, and it has been great. The fees are similar.)
As the Hello Bonsai website explains …
With Bonsai Payments, the fees are as follows:
Visa or Mastercard: 2.9% + $0.30
American Express: 3.25% + $0.30
ACH: 1% ($1 minimum)
With Stripe Payments, the fees are as follows:
Visa or Mastercard: 2.9% + $0.30
American Express: 2.9% + $0.30
ACH: 1.0% ($1 minimum)
With PayPal, the fees are as follows:
PayPal fees are generally 2.9% + $0.30, but Bonsai tells me fees can vary by country.
But suffice it to say, the credit card fees are a worthwhile business expense because ...
... as a freelancer, there's hardly a more satisfying feeling than getting this kind of notification:
So what are you waiting for? Start treating your freelance career like a business, and get paid faster!
The benefits of creating proposals in Bonsai
Now, another thing you can do in Bonsai is prepare proposals.
Yes, there are other great tools out there, like Better Proposals. And I've heard a lot of great things about Better Proposals, but honestly, you probably won't need all of the features within it.
Inside Bonsai, you can create beautiful proposals easily.
Best of all, (1) it's already included in the plan you're paying for and (2) it integrates with all the next steps in your business cycle with a client. That is, you can then create a contract and invoice them all on the same platform.
And clients will appreciate the cohesive feel of the whole experience!
Just as with invoices, Bonsai will let you know when your prospective client has viewed (and even better, signed!) your proposal.
I've created a quick 10-minute video walking you through proposal creation in Bonsai, to show you how easy it is.
Now, there's one other important thing you can do in Bonsai, and that's creating e-signable contracts. I consider it as one of the Big 3 you need your tool to do (proposals, contracts, and invoices).
You can use Bonsai to create professional-looking contracts without ever having to consult a lawyer.
And I'll be covering contract creation in my next post. So stay tuned.
Or you can just go ahead and start levelling up your freelance business with Bonsai right now.
Peace, and happy freelancing!